News
Yes, We Did It Again!
Apr 01, 2023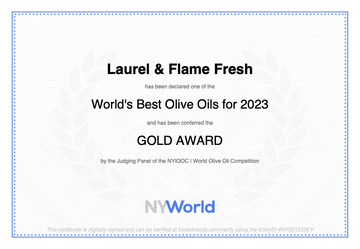 Laurel & Flame Fresh wins its first Gold Award at the NYIOOC 2023, the most prestigious World Olive Oil Competition. As often mentioned, this is the most awarded oil in the Premium Laurel & Flame Collection of The Olive Temple oils. We are just so happy that it confirmed its Best In the World title once again by winning a Gold Medal in this year's competition.
Below is an article by Costas Vasilopoulos reporting from Athens for Olive Oil Times covering the current year contest.
"Joy and excitement overwhelmed Alexis Karabelas of AMG Karabelas, a fourth-generation olive grower and producer, immediately after the organizers started to release the first results of the NYIOOC World Olive Oil Competition.
AMG Karabelas, based in Ancient Olympia in western Peloponnese, was the first among participants from Greece to earn a Gold Award at NYIOOC 2023 for its Laurel & Flame Fresh extra virgin olive oil made from early harvested olives of the indigenous Tsabidoelia variety.
"We feel amazing to win a gold award for our local Tsabidoelia in the world's most prestigious competition for the second year in a row,"Alexis Karabelas told Olive Oil Times. "We sense that the Tsabidoelia variety is starting to take the place it deserves among Greek olive varieties and this gives us the satisfaction and the energy to continue our efforts and hard work."