For the past couple of decades, Greece has been steadily gaining popularity with Americans as a travel haven. And it's no wonder as it is one of the world's top destinations for history, culture, incredible service, beautiful nature and delicious food.  
The team at My Greek Basket are huge fans of Greece and we have travelled extensively around the country and its islands. Our founder Victoria's first trip was (of course) to Santorini, Mykonos and Naxos where she first fell in love with the country.  Since then Victoria has travelled to almost all of Greece on her yearly trips to this stunning country.  
As someone with an extensive experience in the travel industry, Victoria had been doing a thorough research on places to go, stay and experience over many years of personal travel. After showing Greece to dozens of friends and family, many of them admitted that through these travel arrangements and recommendations, they have seen a version of Greece they had never known before. Those of them who went through us for the first time have become regulars.  
Eventually, we wanted to share this further, and thus made travel to Greece a part of "My Greek Basket" along with amazing oils and other Greek products that we fill the Greek Basket with. Creating the My Greek basket collection (of food, travels and other items) we hope that each of them would transmit as much love and admiration for the country as we endlessly feel. 
We simply can't wait to show you around.  
Agroturismo
Visit the farm in Ancient Olympia where Laurel & Flame and Olympian Myth olive oils are made"

Agroturismo/Olivoturismo to Our Olive Oil Producer's Farm in Ancient Olympia
Itinerary: 1 – Olive Oil & Wine Tour with Lab and LunchIncludes: olive oil class, visit to the areas of production – processing and standardization of The Olive Temple olive oils: LAUREL & FLAME and OLYMPIAN MYTH, soap-making lab ending with a farm's traditional lunch.
Duration: 1h 45min – 2h 15min.
Welcome drink (house wine or Ouzo) & homemade olive pie.
Olive oil class starting with pruning in spring through flowering and harvesting in late fall, observing equipment and tools. Detailed description of the most significant Greek olive varieties and their connection with Ancient Olympia.
Guided tour of the olive mill with an explanation of all stages of processing, extraction and storage of olive oil including a visit to the standardization areas. Olive oil tasting: 3-4 plain extra-virgin olive oils and 9 flavored olive oils. Food pairing suggestions.
Soap-making Lab.
Farm's traditional lunch. Includes: wine, water, house-made Greek salad, chickpeas with eggplant or black-eye peas with local herbs and tomato, zucchini cooked with olive oil and garlic or cabbage with tomato and olive oil, Kalamata and green olives, feta cheese with house-made pepper jam, graviera cheese with house-made onion jam, house-made olive paste, Tzatsiki.
Learn More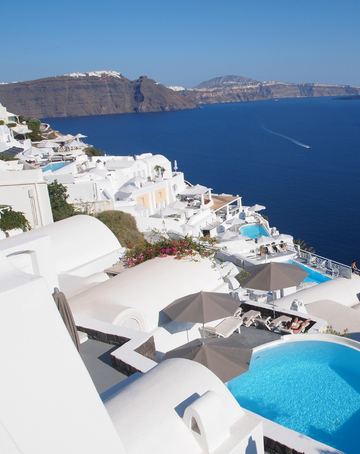 Itinerary Planning
We plan it, you book it. We use our local knowledge to create 100% personalized itinerary for your trip. Simply tell us how many days you want to spend on your Greek vacation and the places you would like to visit and leave the rest with us. We plan all of your trip including international flights, ferries/rental cars and domestic flights in Greece, hotel and restaurant recommendations, places to visit like historic sights, beaches, boat charters, special requests etc.  
Starting at $350 per trip regardless of the number of members in your party. The cost depends on the itinerary and the number of days spent in Greece. 
Note: we also offer an overnight trip to our olive oil supplier, "The Olive Temple", a family-owned olive grove and mill in Ancient Olympia., It's a 3.5-hour drive from Athens, where you can experience our amazing Laurel & Flame and Olympian Myth olive oils as well as other products made at the farm. You will learn about all stages of olive oil making, see the grove where olives come from and the processing facilities and will be able to buy olive oil and other products at discounted prices to take home. Experiences at The Olive Temple farm vary depending on the time of the year. 
Book Now
Personal Travel Agent
We book everything for you. We will create a trip for you and tailor it to your needs. In addition to booking airline tickets, hotels, local transportation, and car rentals we will create an itinerary for you that will allow you to get the most out of your trip including recommendations for sightseeing, beaches, hikes and etc. Many of these places require reservations that we will be happy to make for you: popular sights, restaurants, boat trips and even beach beds at nice scenic beaches need to be booked weeks, if not months in advance. Individual Greek experiences are quoted upon request. 
Prepare to have the experience of your lifetime and book early! The rest is on us. 
Book Now